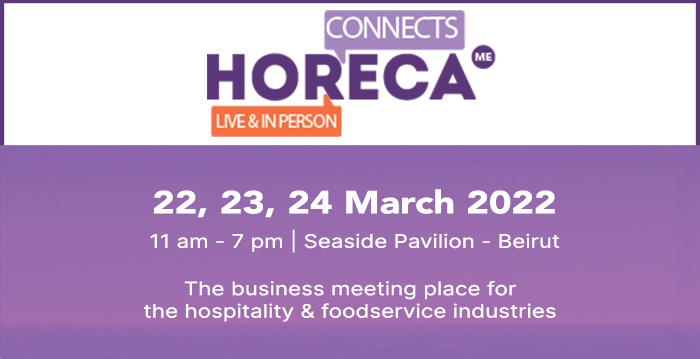 HORECA CONNECTS aims to build new bridges
HORECA CONNECTS will be taking place from 22-24 March at Seaside Pavilion under the theme "Building New Bridges," providing a much-welcomed platform for hospitality professionals to reconnect and network face to face for the first time in two years.
Faithful to HORECA's mission of bringing people together and delivering valuable business experiences, the event will include: an on-site exhibition, a series of talks, presentations and live demonstrations led by industry experts, as well as the launch of an online marketplace.
"Networking and synergizing are vital, and our aim is to work around these unusual circumstances to curate an event that fulfills our mission of bringing people together to share knowledge, learn and do business," said Joumana Dammous Salamé, managing director of Hospitality Services, HORECA CONNECTS organizer.
In addition, Agri-Food Innovation Days 2022, organized by Berytech, will take place during HORECA CONNECTS. Bringing together renowned agri-food companies and startups, the event will showcase products and services across the entire value chain, while academics, innovators, investors, government, media and ecosystem partners will share their expertise in solutions-oriented discussions.
HORECA CONNECTS will also:
Introduce and present the latest, most innovative Lebanese products, solutions and services relating to the hospitality and foodservice sectors, providing alternatives to imported brands
Support exports and build market linkages between local suppliers and new/existing customers, connecting producers, industrialists and other local operators with Lebanese chefs, restaurateurs and distributors abroad
Promote Lebanese cuisine, Lebanese brands, restaurants and productive sectors, thus keeping Lebanon's brand value high while highlighting local products, restaurants, chefs, food ambassadors and the people working hard to uphold Lebanon's reputation as a gastronomic hub
In parallel, HORECA Live will stream online, with two days of discussions and open talks bringing together entrepreneurs, experts and key figures in restaurants, hotels and more. Featuring a series of hot topics related to the hospitality and foodservice industries, HORECA Live will connect a large audience of professionals from Lebanon and the region.
Further details will be shared on horecashow.com