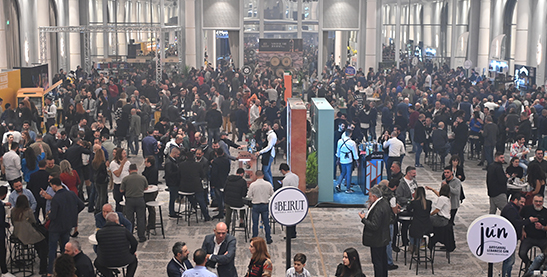 Whisky Live Beirut's Sixth Edition Coming Soon
Whisky enthusiasts and connoisseurs have reason to celebrate as the highly anticipated sixth edition of Whisky Live Beirut is set to return to the city's Seaside Pavilion from November 8-10, 2023. Showcasing exceptional whiskies from around the world, the event promises to be the most immersive and memorable yet. 
Whisky Live is a globally recognized platform that brings together distillers, brands and whisky enthusiasts to explore and indulge in the world of fine spirits.  
The sixth edition of Whisky Live Beirut aims to surpass all expectations, offering an unparalleled opportunity for attendees to discover an extensive range of whiskies, from well-established names to emerging and artisanal distilleries. Exhibitors from renowned whisky-producing regions, including Scotland, Ireland, the United States, Japan and beyond, will be present to showcase their craftsmanship and share their passion for the spirit. 
Joumana Dammous-Salamé, managing director of Hospitality Services, the event organizer, said: "Our aim is to create an immersive and interactive platform that not only celebrates the artistry of whisky-making but also fosters a vibrant community of whisky enthusiasts. With an exciting lineup of exhibitors, masterclasses and unique experiences, we are confident that this year's edition will be fantastic." 
The program of masterclasses, tasting sessions and interactive experiences will provide attendees with a deeper understanding and appreciation of the rich history, production techniques and tasting notes of various whiskies.
In addition to the exceptional whisky offerings, the sixth edition of the show will also feature a vibrant boutique, where attendees can explore a wide range of whisky-related products. 
"Whisky Live Beirut brings positive energy to a city that always finds reason to celebrate. It is the only event of its kind — one that people wait impatiently for — and we are really excited about hosting the sixth edition. It goes to show how much people love whisky!"  
whiskylivebeirut.com