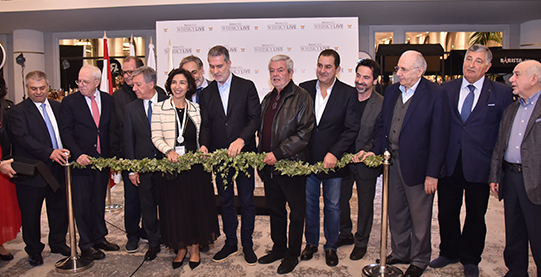 Whisky Live Beirut kicks off its fifth edition with a rich program of events around whisky
Beirut, December 1, 2022: Whisky Live Beirut, the world's premier whisky tasting event, launched its fifth edition on December 1 at Seaside Pavilion, following a two-year break due to the global pandemic and the Lebanese economic crisis.
The opening of the three-day event, which celebrates the world's finest whiskies and brings together international brand ambassadors and experts, was held in the presence of the Minister of Tourism H.E Mr. Walid Nassar, as well as heads of ministries, association presidents, ambassadors and media figures, in addition to a discerning crowd of whisky enthusiasts.
Ms. Joumana Dammous-Salamé, Managing Director of Hospitality services, the event organizer, said: "The past two years have been extremely difficult for everyone. However, we cannot let the hard times take their toll. We are back in high spirits, with special releases and an unprecedented program to bring some excitement and joyful moments to the city. We are delighted to see such a wonderful crowd for the relaunch of this event."
"This year's edition gathers together more than 60 producers, distributors and suppliers, offering visitors a rare opportunity to taste some of the finest international and Lebanese whiskies, including premium single malts, bourbons, Scotch, Irish and Japanese whiskies" added Ms. Maha el Khoury, project director.
Visitors to Whisky Live Beirut can taste a fine selection of whiskies by world-famous brands, as well as interesting releases by Lebanese brands that are new to the market. More than 20 small-group masterclasses are also open to the public, as is the Star Bar, an area dedicated to mixology. International experts, brand ambassadors and leading figures in the world of spirits will be hosting the sessions.
The Chefs' Table is another feature of Whisky Live Beirut's fifth edition. Three whisky-pairing dinners are being organized by well-known chefs; Joe Barza, Charles Azar, Youssef Akiki et Tarek Alameddine in partnership with renowned whisky brands to raise funds for local charities.
-END-