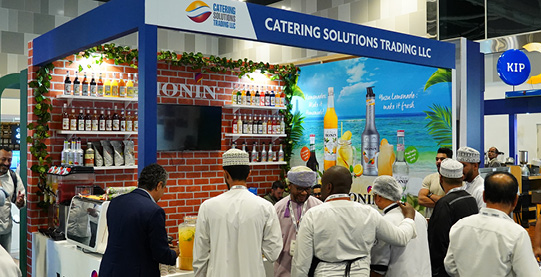 The second edition of HORECA Oman is being held at Oman Convention and Exhibition Centre, Muscat, from May 30 to June 1, 2023.
Here's what you need to know about the famed hospitality and foodservice event.
Following the success of its debut in May 2022, which welcomed more than 5,000 visitors, HORECA is returning to Muscat for the second consecutive year. Co-organized by Hospitality Services, a Beirut-based large-scale event organizer, and Al Nimr Expo, it is regarded by many as Oman's premier hospitality and foodservice trade show.
According to Maha El-Khoury, project and sales director of HORECA Oman, the event is a must for industry professionals. "Besides our 150 plus exhibitors, the forthcoming edition of HORECA Oman features a program packed with stimulating discussions, insightful workshops and exciting competitions that will identify and reward the country's top talents."
Indeed, over 100 of the most promising chefs, culinary students, baristas and mixologists are set to go head-to-head in a series of live cooking, display challenges, barista, latte art and mocktail competitions that will put their skills to the test.
Joumana Dammous-Salamé, managing director of Hospitality Services, added: "With a 30-year history, HORECA's mission has always been to empower local players, support growth in the sectors it serves, encourage networking and create opportunities for the hospitality, foodservice and tourism industries. HORECA Oman is one of our newest shows, yet it is one of the most interesting, as the sultanate is evolving, particularly from a hospitality perspective. It promises to be a fantastic event."
Salim Al Hashmi,ceo of Al Nimr Expo, said: "We are really looking forward to hosting another HORECA Oman and to welcoming professionals from across the region to Muscat, which continues to display great investment and development potential. It is an extremely valuable trade and business platform where visitors can discover the latest hospitality- and F&B-related products, services and technologies."