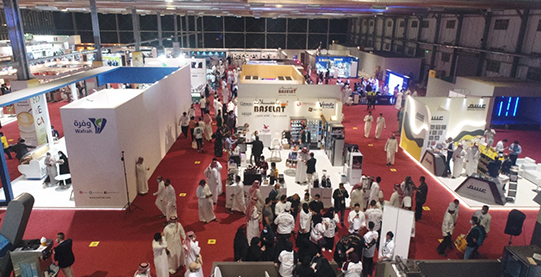 Saudi Horeca –back in business
As the largest hospitality and foodservice event in the Kingdom, Saudi HORECA is on track to celebrate its 11th edition at Riyadh International Convention and Exhibition Center from November 22–24. Here, we discuss the event, its visitor profile and why it is such an important annual meeting point for professionals.
Saudi HORECA was established in 2011 as a business platform for hospitality and food-related companies to meet, interact and do business. Spread across 15,000 square meters, the exhibition today showcases the products and services of hundreds of stakeholders to an audience of 25,000 trade visitors.
"We have remained loyal to our mission of attracting investors and driving these important industries forward in Saudi Arabia," said Jad Taktak, general manager of Semark, the organizer of the show. According to Taktak, Saudi HORECA is the most prestigious exhibition in KSA, as B2B exhibitions rarely target hospitality in the Kingdom. With all eyes on Vision 2030 and related large-scale investments in tourism, the event provides a vital gateway for those looking to unlock its hospitality potential.
"Our exhibition space is already fully booked, a testament to the interest in HORECA and the doors it can open, which is why we are having Saudi HORECA Jeddah in February 2023 as well. There are countless opportunities to do business in the kingdom, especially now," Taktak added.
Besides being a strategic meeting place, Saudi HORECA never fails in its other mission of highlighting the skills of rising talents. Indeed, more than 250 participants will compete in the renowned Hospitality Salon Culinaire in a bid to impress a panel of international judges, while the Barista Competition will crown its 2022 champion.
"We are delighted to see Saudi HORECA back for its 11th edition," said Joumana Dammous-Salame, managing director of Hospitality Services, the firm behind the HORECA brand. "It promises to be an outstanding exhibition, with new concepts, products and services. The Saudi market is booming, and this event is a must for all hospitality and foodservice professionals, particularly investors.