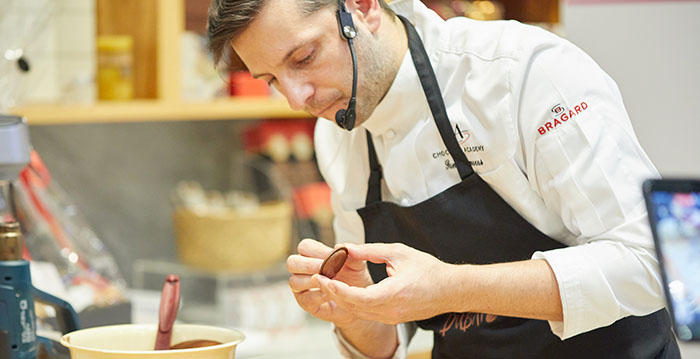 The sweet taste of success: a triumphant first edition for Salon du Chocolat et de la Pâtisserie Dubai
The first edition of Salon du Chocolat et de la Pâtisserie Dubai ended on a sweet note after three successful days at Galeries Lafayette — The Dubai Mall.
Dedicated to chocolate and pastry, the world-famous event welcomed thousands of enthusiasts, 50 brands and over 40 chefs and food bloggers. Well-known faces in the industry shared their know-how at more than 36 workshops and demonstrations, which paid tribute to popular desserts, the finest in pastry and first-class ingredients.
Salon du Chocolat et de la Pâtisserie Dubai debuted on Thursday 12 May with a nature-themed chocolate fashion show. A total of 12 dresses created by ESMOD DUBAI students and renowned pastry chefs were showcased on the runway, with gowns featuring intricate details made of chocolate.
Other highlights included workshops with leading pastry chefs at the Pastry Show section, live cooking sessions hosted by bloggers at the Choco Demo and a space for children to make their own desserts. Furthermore, Tunisian-French sculptor Idriss B. unveiled his chocolate sculpture, shaped like a bear.
"It is a real pleasure to be here today to inaugurate the first Salon du Chocolat in Dubai and to celebrate the beauty of this amazing product: cocoa," said Gérald Palacios, managing director and president of Event International, the owner of Salon du Chocolat. "Salon du Chocolat was launched 27 years ago in Paris and is still the biggest consumer food event in France."
Joumana Dammous-Salamé, managing director of HSME, the event organizer, said: "We were thrilled to bring this iconic event to Galeries Lafayette – Le Gourmet at The Dubai Mall, the most prestigious landmark in the world," said "It was beyond our expectations, and we are really looking forward to working on a bigger event in 2023."
Indeed, with positive feedback from exhibitors, participants and visitors aplenty, HSME has confirmed the dates for the forthcoming edition. "Salon du Chocolat et de la Pâtisserie will be returning to Dubai from 18 to 20 May 2023. We promise to bring the best in international chocolate and pastry back to Dubai, with a larger selection of brands and even more celebrity chefs". said Maha El Khoury, projects and sales director at HSME.