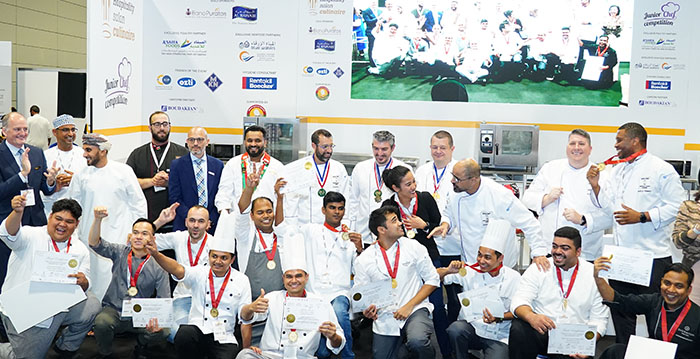 HORECA Oman makes a positive impact
More than 70 local and international F&B and hospitality-related companies gathered together for the first edition of HORECA Oman, which closed its doors on June 2, 2022, after three memorable days at Oman Convention and Exhibition Centre in Muscat.
Hospitality and foodservice professionals were a given a taste of the HORECA signature with the network marking its debut in Muscat, Oman. An established business meeting place and platform for key buyers to network with investors, retailers, distributors and stakeholders, HORECA Oman fulfilled its mission in showcasing the latest innovations, trends, solutions and products while celebrating the country's rising talents and burgeoning hospitality sector.
Co-organized by Al Nimr Expo and Hospitality Services, HORECA Oman welcomed more than 5,500 visitors. Attendees rubbed shoulders with 25 experts, celebrity chefs and industry leaders, and had the opportunity to discover 700 brands from countries including the UAE India, Jordan, Kuwait, Lebanon, Oman, Pakistan and Poland.
Salim Al Hashmi, chairman of Al Nimr Expo, said: "With the pandemic largely behind us, the market is, once again, flourishing. It really was an ideal time to launch this event, as there are many opportunities for those looking to invest in Oman; HORECA Oman proved it."
Besides the exhibition space, visitors were able to enjoy a number of unique competitions. Indeed, over 200 participants took part in the Hospitality Salon Culinaire, Junior Chef Competition, Art of Service Competition, Mocktail Competition, Latte Art Competition, Barista Competition and Bed Making Competition. Jumeirah Muscat Bay was named as the hotel with the highest number of gold medals at the Hospitality Salon Culinaire awards ceremony.
Chefs Youssef Akiki, Paul Hayward, Tarek Ibrahim, Christophe Marguin, Sylvain Arthus and Marcus "Gato" Freminot were among those judging the Hospitality Salon Culinaire competitions, while experts Anthony Bedoyan, Cleia Junqueira and Safa Salehi were jury members for the latte art and barista contests. The Mocktail Competition was judged by Walid Merhi, Mallory Lee and Valentin Susnea, and the Art of Service Competition jury featured Fadi Lesidon, Hani Farhat, Ali Mouzahem and Youssef Al Abri. Finally, the popular Bed Making Competition was judged by Mukti Wagle, Adil Al Subhi and Suresh Khadka.
"We are proud to have brought HORECA to Oman," said Joumana Dammous-Salamé, managing director of Hospitality Services. "HORECA's mission has always been to empower local players, support growth in the sectors it serves, encourage new businesses, stimulate networking and create opportunities for the hospitality, foodservice and tourism industries.
Muscat becomes the sixth city in the Middle East to join the HORECA Network, with annual events taking place in Beirut, Amman, Kuwait City, Riyadh and Jeddah. The brand was established in Lebanon in 1994 and has gone from strength to strength, despite ongoing market challenges.