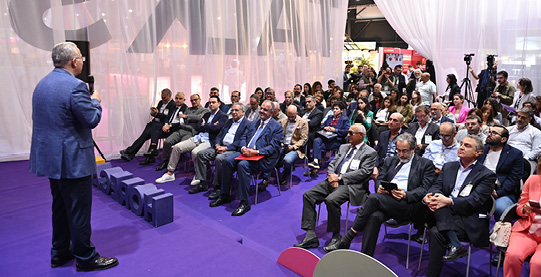 HORECA LEBANON 2023: A RESOUNDING SUCCESS FOR LEBANON AND ITS HOSPITALITY
HORECA Lebanon, the annual meeting place for the hospitality and foodservice industries, closed its 2023 edition with a very remarkable success, after four consecutive days of exhibition, talks, and business encounters held at the Beirut Seaside Arena.
This latest edition highlighted the most current and innovative developments in hospitality and foodservice and was met with resounding success. The event drew a record of over 12,000 attendees, as well as more than 160 exhibitors. It was held under the title "Connect. Be Inspired. Explore', which constitutes a perfect illustration of the objective of HORECA Lebanon, w the exploration of the latest trends in the hospitality and foodservice sectors in Lebanon and across the world.
Horeca Lebanon 2023 edition was also marked by a major participation of senior Lebanese officials counting Minister of Tourism, H.E. Mr. Walid Nassar and H.E. Mr. George Boujikian, who attended and effectively participated in various industry talks. Furthermore, the event witnessed the attendance of various deputy, ambassadors, director general, presidents of chamber of commerce, syndicates and associations from the industry, key industry figures, as well as celebrity chefs.
During the event, Minister of Tourism Walid Nassar delivered recognition awards to renown Lebanese chefs, in appreciation for raising the Lebanese flag proudly around the world. The list of awarded chefs included names such as Antonio Bachour, Alan Geaam, Philip Khoury, Joe Barza, Maroun Chedid, Charles Azar, Youssef Akiki, Samaan Hilal, Hussein Hadid, Cynthia Bitar, Pierre Abi Hayla, Aline Kamakian, Souheil Ghazal, Tarek Alameddine, Rodi Rizk, Simon Manoukian, Dany Khairallah, Georges Dakkak, and Sleiman Khawand.
In addition to the above-mentioned awards, HORECA Lebanon 2023 witnessed the hosting of a special pavilion, dedicated to new Lebanese products and import substitutes, and organized within the "HORECA Innovations" program. 25 out of the 46 participating Lebanese brands, were awarded for their innovation covering various categories such as food, beverages, amenities, tableware, and pet food.
It is also worth mentioning that this edition welcomed 30 international buyers, who attended HORECA Lebanon to discover the newest Lebanese products. As a matter of fact, HORECA collaborated with the Association of Lebanese Industrialists (ALI), in order to enhance Lebanese exports, while ensuring their effective promotion around the world.
Finally, the traditional Horeca Talks welcomed more than 70 speakers, who discussed topics related to the hospitality industry over 14 talks that took place during the 4 days event. In addition, Horeca Stage hosted more than 50 culinary, beverage, and hospitality experts as Antonio Bachour, Alan Geaam and Philip Khoury, who shared their know-how with the audiences during special masterclasses, culinary talks, workshops and competitions that were staggered over the four-day exhibition. Furthermore, a series of cooking demonstrations took place within the Horeca Theater, with the aim of highlighting the best of Lebanese production.
Managing director of Hospitality Services, Joumana Dammous-Salamé, said: "We have worked relentlessly to succeed this Horeca Lebanon's edition, and to transform it into a celebration of the essence of Lebanese hospitality, as well as our agility, creativity, resilience, and will to survive despite harsh and unfavorable circumstances". Moreover, she expressed her "immense honor for having gathered in Beirut international culinary maestros, who converged to take part in Horeca, and to bring their unique know-how and flavors to our table, celebrating Lebanese culinary excellence and innovation." She finally expressed her "pride in seeing Horeca shift to a landscape event promoting Lebanon, its products, brands, terroir, culinary art, but also its rich culture and history."