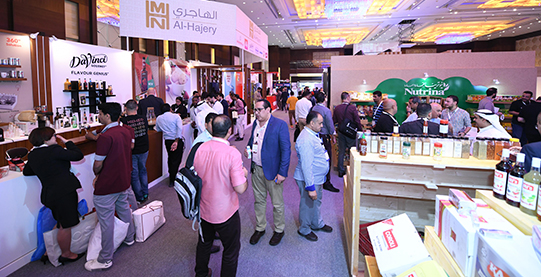 HORECA Kuwait's 11th edition kicking off soon
More than 100 exhibitors — 30 percent of whom are new participants — will be present to showcase their products and services to thousands of hospitality and foodservice professionals. In addition, HORECA Kuwait will host 20 renowned experts from the world of culinary arts, as well as the hotel and F&B sectors.
Forecast to attract more than 7,000 visitors, the 11th edition of the show will feature a specially designed program of competitions and networking events. Highlights include the Hospitality Salon Culinaire, Bed Making Competition and Barista Competition, which will gather together more than 250 participants.
In recent years, Kuwait has witnessed a boom in its hospitality and foodservice offering, with HORECA acting as a gateway for investors.
Mohamad Najia, executive director of Leader's Group for Consulting and Development, HORECA Kuwait organizer, said: "Being the premier business meeting place for the hospitality and foodservice industries in Kuwait, HORECA Kuwait allows suppliers, distributors and buyers to network. This, in turn, creates new opportunities and helps to drive these industries forward. Furthermore, the event supports the new generation and rising stars in hospitality and the culinary arts through a number of live competitions that reward talent and creativity."
Joumana Dammous-Salamé, managing director of Hospitality Services, the company behind HORECA, expressed her excitement about the forthcoming trade show in Kuwait. "It is always a rewarding experience to bring these events to life and shine the spotlight on the region's hospitality and foodservice industries. The Middle East is known for its generosity and authenticity, and we are leaders when it comes to new hotels and F&B concepts. With this in mind, you can be sure that HORECA Kuwait will be bringing innovations to the forefront while it celebrates all the positive changes in the sectors and those who are working hard to enhance the country's hospitality landscape," she said.
-End –
 Editor's note.
HORECA Kuwait comes on the heels of HORECA Jeddah, which marked its debut on February 7, 2023. Held at Jeddah Superdome, the event was hailed as a success, attracting more than 6,000 visitors who were able to explore thousands of products and brands.
The annual trade fair has become an essential business meeting place for the hospitality, foodservice and beverage industries.
Over the years, the HORECA Network has evolved and expanded, with annual events taking place in Beirut, Riyadh, Kuwait, Amman, Muscat and Jeddah. Showcasing hospitality–related products and services, as well as innovations, HORECA brings together international chefs and experts, mixologists, restaurateurs, producers, distributors and industry leaders, attracting thousands of visitors and providing a vital gateway for industry leaders to network and do business.
The eagerly anticipated event spotlights the latest trends, innovations and market solutions, and hosts live cooking demonstrations, culinary, bar and hospitality competitions, panel discussions and networking sessions with the region's top players.
Follow @horecashow