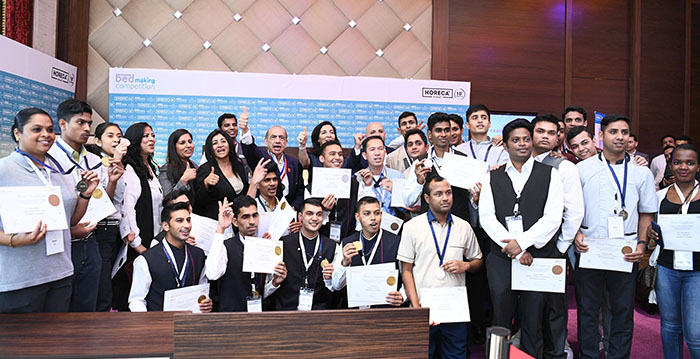 HORECA KUWAIT TURNS 10
The 10th edition of HORECA Kuwait, the country's premier hospitality and foodservice event, was hailed a triumph as it closed its doors at the Crowne Plaza Hotel Al Thuraya City, Kuwait, on May 25, 2022.
In the presence of Kuwait's Minister of Commerce and Industry, H.E. Fahad Mutlaq Al-Shuraian, ambassadors and guests, HORECA Kuwait launched its 10th exhibition to celebrate the best in hospitality and foodservice.
The renowned event has, over the past decade, established itself as a prime meeting place for professionals to network and do business, providing a much-needed boost to Kuwait's hospitality sector. Indeed, for three consecutive days, over 60 local and international exhibitors, including brands from Poland, the UAE and Lebanon, showcased their products, services and solutions at the country's leading hospitality and foodservice trade show.
At the opening ceremony, H.E. Al-Shuraian said: "We view this exhibition with appreciation from a strategic economic and services perspective, recognizing that its interest in food industries, gives it the added value of prioritizing food security, particularly with the continuous disruption of the global production and supply chains resulting from the repercussions of world events. All this calls for tireless efforts and alertness in the production, manufacture and supply of foodstuff."
The minister added that hospitality development is an important part of Kuwait's Vision 2035 and that the sector is booming. "It is no secret that the State of Kuwait is among the leading states in the domain of food and one of the most competitive countries in the foodstuff market, attracting the best international trademarks."
Besides the familiar sight of stands, visitors were able to watch exciting culinary competitions at the Hospitality Salon Culinaire. More than 150 participants took part in live cooking and display challenges, which were judged by an expert panel of well-known chefs, including Maroun Chedid, Samaan Hilal, Zyad Hilal, Richard Seidel, Fasial Al Nashmi and Christiane Trilck. Furthermore, HORECA Kuwait saw the return of its much-loved Bed Making Competition, where housekeepers from around the country showed off their skills.
"True, it has not been easy for us to relaunch this event amid all the obstacles and challenges, and after long lockdowns imposed by the coronavirus pandemic. Yet, here we are again, celebrating the 10th edition of HORECA Kuwait," said Nabila Al Anjari, chairwoman of the HORECA Kuwait organizing committee.
Mohamad Najia, also part of the HORECA Kuwait organizing committee, reiterated the importance of having the in-person event and bringing the sector together. "We are delighted with the outcome of this year's event, which is a major milestone and a great achievement, particularly during this challenging period of post-pandemic recovery." He added: "It was a shame not to be able to host this valuable business meeting platform in 2021, but we made up for it with a special edition this year."
Joumana Dammous-Salamé, managing director of Hospitality Services and HORECA brand owner, said: "It was incredible to have more than 3,500 professionals attend the 10th edition of HORECA Kuwait. As the annual meeting place for the hospitality and foodservice industries, it just goes to show how much potential the sector has and how rapidly its growing. Kuwait continues to be a very interesting and dynamic market."