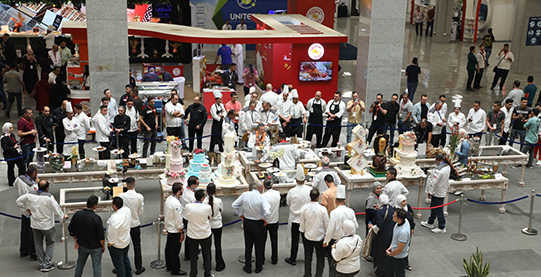 HORECA Jordan marked the end of its eighth edition
HORECA Jordan marked the end of its eighth edition on September 29 after three exhilarating days of networking, competitions and business exchange at Jordan International Exhibition Center.
In true HORECA Jordan fashion, hospitality and foodservice professionals came together to discover the latest products and services in the market. The opening ceremony, on September 27, was held in the presence of Jordan's Minister of Tourism and Antiquities, the managing director of Jordan Tourism Board, the president and members of the Hotel Association and Restaurant Association, as well as ambassadors and leading figures from the world of hospitality, the culinary arts and F&B.
More than 9,000 visitors attended the show to connect and do business with 120 local and international exhibitors, including tableware suppliers, kitchen equipment specialists, food and beverage producers, packaging and labelling manufacturers and much more. Indeed, pavilions representing Russia, Poland, Greece, Turkey and the UAE formed part of the impressive exhibition area.
Speaking about the event, Thuraya Husseini, chairperson and CEO of Lawrence & Husseini Consult, HORECA Jordan organizer, said: "There was a great energy at this year's event, and we have received fantastic feedback from our partners and guests. Apart from new additions to the program, it has also been exciting to host HORECA Jordan at a new location."
"It was fantastic to be able to reconnect with industry stakeholders at a new venue," said Joumana Dammous-Salame, managing director of Hospitality Services, the firm behind the HORECA brand. "The pandemic created many challenges, but HORECA Jordan returned stronger than ever.""It was fantastic to be able to reconnect with industry stakeholders at a new venue," said Joumana Dammous-Salame, managing director of Hospitality Services, the firm behind the HORECA brand. "The pandemic created many challenges, but HORECA Jordan returned stronger than ever."
HORECA Jordan returns for its ninth edition from October 17-20, 2023.horeca-jordan.com