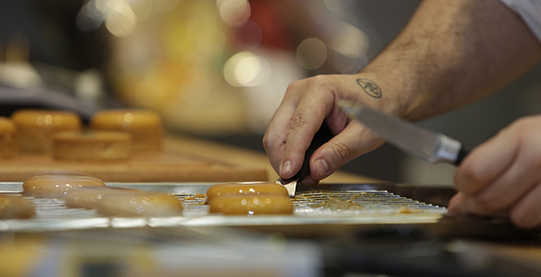 DUBAI IS SET TO HOST THE 2023 EDITION OF "SALON DU CHOCOLAT ET DE LA PATISSERIE" IN MAY
 The world's famous event « Salon du Chocolat et de la pâtisserie » will be back in Dubai with its 2nd edition, that will take place in the Galeries Lafayette Gourmet at The Dubai Mall, from May 18 to May 20, 2023.
This one-of-a kind event has captivated chocolate lovers in its first edition that was launched last year, and which achieved a major success. This year will be no different, as this special second edition will host professional chocolate tasters, chocolate masters, chocolate lovers, as well as renown authors and pastry chefs from all around the world.
The 2023 edition program will include unique workshops and masterclasses, that will be delivered by famous chefs and will host dozens of chocolate and pastry exhibitors. The visitors will also be invited to discover, taste, and buy mouthwatering chocolates by leading international brands and meet renown pastry chefs in person. This event simply constitutes a dream for all chocoholics, letting all chocolate and pastry aficionados live an exclusively sensational experience.
On this occasion, Mrs. Joumana Damous-Salamé, Managing Director of Hospitality Services, event organizer stated: "We are more than delighted to organize this event for the second time in Dubai. This amazing city being number 1 on trip advisor symbolizes both innovation and prosperity, not only in the industry of hospitality and foodservices but in all major industries. These constitute the main qualities and values on which our work is based." She added this event is not about chocolate but also the world of pastry and sweets.
From her end. Ms. Maha El Khoury, Projects and Sales Director at Hospitality Services said: "Salon du Chocolat et de la patisserie will certainly not disappoint its visitors, as we have prepared an outstanding program that fits chocoholics of all tastes and ages." She added that "Dubai is known for being unique and captivating in all of its activities, so we will do the same. In this regard, we will assemble all renown pastry chefs and chocolate masters at the most modern city in the world, gathering the elites of the hospitality and food service industry".
Ever since its launch in 1994 in Paris, Salon du Chocolat et de la pâtisserie became an international reference for all chocoholics, organizing events in famous cities around the globe, namely New York, Tokyo, London, Brussels, Cologne, Lyon, Moscow, Shanghai, Marseille, Zurich, Cannes, Bordeaux, Monaco, Milano, Hong Kong, Beirut, Dubai, Jeddah and many other cities.
-END-